Ohh Help Me!!!!! What a week of ups and downs in my creative space.
Earlier in the week I had my Hexagon quilt all "sandwiched" together ready to go for some hand quilting. I was so pleased that I was within reach for a finish .... not just a top Finnish but a complete finish and what made even more exciting was that I had promised myself that I could have a real play with my new toy, my Go Baby if I got a real finish.
Well my hexagon quilt went from this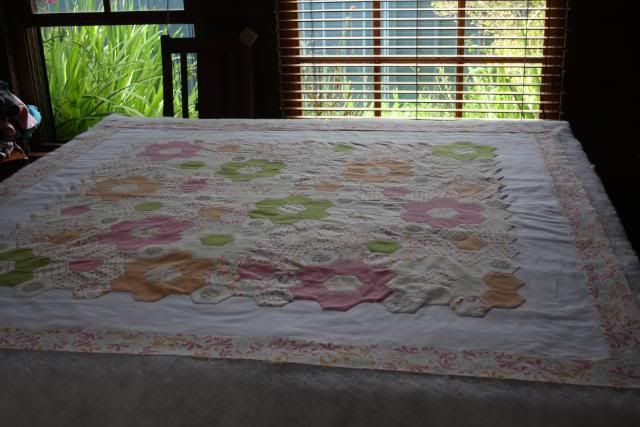 then to having 8 hexagons hand quilted (sorry didn't get a pic of this bit) which involved working on it every spare minute I had when things started to fall apart....literally. I had used a basting spray and then pinned the quilt and to my disgust the basing spray wasn't sticking so I tried to do some border quilting to help hold the fabric. I thought this was working until yesterday morning when I sat and assessed the situation. Lets let some photos show you what happened next ..........
I thought I could just unpick some bits to fix and go from there.........
Nope ...... In my utter disgust at the state of my quilt, I unpicked it ALL and am going to have to start again.
It is now hanging on the side of my storage unit waiting my attention :(
One positive thing for my poor quilt top is that I have decided to Bind it in the same fabric as the border!
Thank you EVERYONE for your suggestions on the border fabric it has been GREATLY APPRECIATED.
I am loving the progress that everyone is sharing here.
Happy stitching, Sharon